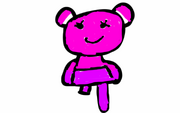 Kataashitchi (一条腿牛逼志) is a feamale adult dowloadtable character from tamagotchi 6U and 6U+(Japanese edition) and tamagotchi V1-V3 (chinese edition).She was not been on any tamagotchi release yet.
Appearence
Edit
She is the 1st feamale adult featured in Chinese. She is a disabled person due to a bus accident.
Personality
Edit
She can dance but, She loves chocolate,burgers,green tea drink and doughnut.She featured only in tamagotchi featured in colour because, people like all tamagotchi to be featured in coloured more than black and white.
-She is 1st feamale adult tamagotchi featured in japanese and chinese versions.
Ad blocker interference detected!
Wikia is a free-to-use site that makes money from advertising. We have a modified experience for viewers using ad blockers

Wikia is not accessible if you've made further modifications. Remove the custom ad blocker rule(s) and the page will load as expected.