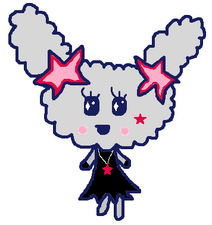 KuroLovelitchi (くろラブリっち) is a female character created by KuroLovelitchi xD (user).
Appearance Edit
She looks like Lovelitchi, but she has a gray color of skin, black dress and necklace with pink star. She also has a two pink star on her ears, black gloves and little pink star on her face.
PersonalityEdit
She is very nice nad funny, and likes everyone without exception. She is very intelligent, just as Mametchi, and very good in sports, just as KuroMametchi. She has only one small flaw- she is very often late for school!
Ad blocker interference detected!
Wikia is a free-to-use site that makes money from advertising. We have a modified experience for viewers using ad blockers

Wikia is not accessible if you've made further modifications. Remove the custom ad blocker rule(s) and the page will load as expected.