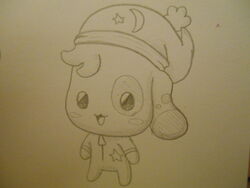 Pajamatchi
is a male fanmade Tamagotchi character. He is the younger brother of
Sorsaratchi
.
Appearance
Edit
Pajamatchi is light brown with medium brown markings. He wears a light blueish purple nightcap with a star and moon on it. He also wears pajamas of the same color with a zipper and a star. He has a dog-like ear on the right side (his left-hand side) of his head, and a tuft of fur on the left (his right-hand side).
Pajamatchi and Sorsaratchi were originally going to be the central characters in Tamagotchi: The Secret Wish, but they are now going to be replaced due to too much resemblance to Mofumofutchi.
Ad blocker interference detected!
Wikia is a free-to-use site that makes money from advertising. We have a modified experience for viewers using ad blockers

Wikia is not accessible if you've made further modifications. Remove the custom ad blocker rule(s) and the page will load as expected.