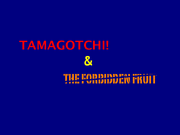 Tamagotchi & The Forbidden Fruit (たまごっち ! 禁断の果実
Tamagotchi! Kindan no kajitsu
) is a new upcoming animated show on Tamagotchi Each one will be 23 to 22 minute long
After 3 months on DoriTamaTown the people start team up to be Beat Riders and the new corperation named Yggdrasil Coperation but in aftermath the unknown crack comes from nowhere the Inves from crack attacks people. There is only one hope is Armored Riders.
Beat Riders
Edit
Team TamaBeat (NEW)
Mametchi
Kuchipatchi
Memetchi
Lovelitchi
Violetchi
Gozarutchi
Team Roblox (NEW)
thebfs
dryzeak
greedychickenturkey (Grdy)
Ludipup (aka Spoonaura)
Nyxous (DAT FAIIZZZZ)
Team Gaim
Team Baron
Yggdrasil Members
Edit
Takashima (Boss)
Tony (CEO)
Cosmo (Secretary)
Meloetta (Lock Dealer)
Melodytchi (Professor)
Yggdrasil Henchmen
Ad blocker interference detected!
Wikia is a free-to-use site that makes money from advertising. We have a modified experience for viewers using ad blockers

Wikia is not accessible if you've made further modifications. Remove the custom ad blocker rule(s) and the page will load as expected.