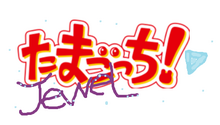 Tamagotchi Jewel is the 5th tamagotchi anime, continuing from Go Go Tamagotchi. It's main themes are jewels, world culture, flowers, music and romance.
Jewel City is a pretty city. It is in a tropical climate, very diffrent from DoriTama Town. Storms were common during the summer months, but nothing was like the most recent storm hitting that city! It was a very powerful storm, it knocked out one third of the whole city! Jewel material, the stuff that makes the buildings, was gone forever. Dozens of tamagotchis died, and many others were homeless. Floratchi, Mametchi, the Pikapika trio, and Sansantchi must find the 12 birthstones, very rare jewels, that can grant any wish, to save Jewel city and its people!
Characters
Edit
Main:
Floratchi
Layettetchi
Gochimotchi
Mametchi
Memetchi
Kuchipatchi
Sansantchi
Inazumatchi
luckitchi
Tiramisutchi
Falsetchi
Stormitchi/Kokorotchi
Episodes
Edit
A storm hits Jewel City and the gang must find the cause of it.
The gang finds the cause of it. The storm was made by Stormitchi. They also transform with the jewels.
Luckytchi is feeling sad, so the robot class makes her a friend
Gochimotchi finds a cat. The cat is Floratchi's tama pet.
Floratchi and Gochimotchi become friends. Tiramisutchi opens up a cafe.
Tiramisutchi goes on a tour of cafes in the area

Ad blocker interference detected!
Wikia is a free-to-use site that makes money from advertising. We have a modified experience for viewers using ad blockers

Wikia is not accessible if you've made further modifications. Remove the custom ad blocker rule(s) and the page will load as expected.